Messages

12
Reaction score

9
Points

8
Preview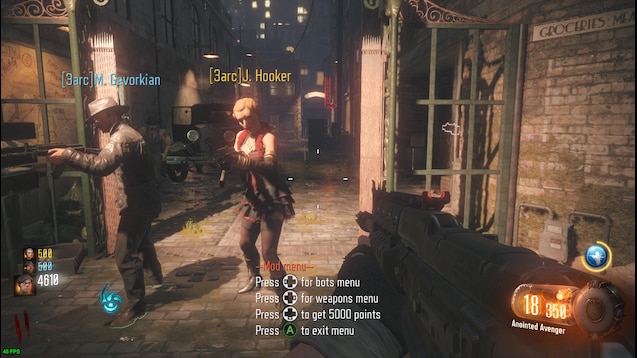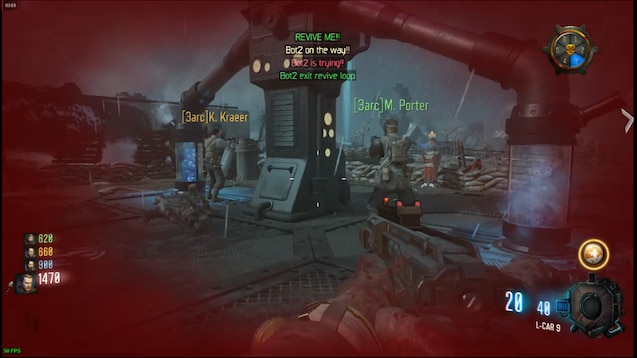 ​
Features
Some bots to play with when all your friends are gone. These bots can be summoned from a menu, take the place of human players(just like multiplayer) and then are easily removed if you want to pause the game. I made them tougher than normal and modified their behavior.
Press "special action 4" for mod menu UI:
-Bot menu- Summon, dismiss and teleport bots.
-Weapon menu- Choose to get a random weapon(of 64), give all bots a random weapon or yours.
-Give 5000 score to host.
Press "special weapon button" (default 'Q') for toggle bot mode(camp,wander or follow host).
What they can do:
Shoot and stab zombies, of course.
They get a random weapon or your weapon, your choice.
They have infinite ammo.
They pick up power-ups.
Shoot during last stand.
They go to and revive the host player if downed.
They revive themselves 5 seconds after getting downed.
What they don't do:
Open doors, fumigate, set traps, buy anything, etc.
They don't get downed easily.
They don't revive guest players, they only revive the host and themselves.
Make sure your party limit is 4, because bots are counted as players.
Credits
ːlolːːbo3lmsoːːbo3ofaceːːbo3sealedːːbo3smileːːbo3winkyːːSpeech_Questionːːgl_kittyːːlunar2019coolpigːːlunar2019deadpanpigːːlunar2019laughingpigːːlunar2019madpigːːlunar2019piginablanketːːlunar2019scowlingpigːːlunar2019shockedpigːːlunar2019sleepingpigːːlunar2019smilingpigːːlunar2019wavingpigːːEXPLOD...
steamcommunity.com
How to use it?
Steam
Select Steam Workshop under Download
No Steam
- Download the file .rar file.
- Unzip the .rar file.
- Place the folder zbots in: Call of Duty Black Ops III\mods
- Start the game and select the mods from the mods menu in the main menu
Download


uploaded.to

Enjoy​