Floating Islands Crasher v2.2.3
Updated: 17.09.18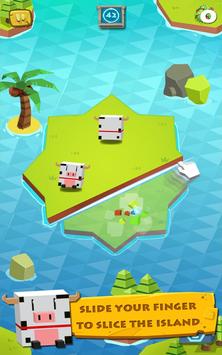 Aliens were living on a small planet for many years, but in recent years, the power resource of this planet will be exhausted. The only way to survive itself is to exploit a new power resource. This time, the target is the floating island on earth!
Animal kingdom - Floating islands are rich in power resources, but it is not easy to exploit it, aliens need to cut off the island to exploit the power resource, but they are not allowed to harm animals.

FEATURES:
- 250 challenge levels
Aliens now only discover 5 mainland contain 250 floating islands, these resources have not completed the target, next, aliens will explore more mainland.
- Who is the trouble maker?
Animals brought a lot of working trouble to aliens, but the biggest trouble is the naughty ground alien, they have their own special properties, faster, bigger, and invisible.
- Amazing Power-ups
Alien technology is powerful, the coolest thing is to slow down the time, and more skills can be unlocked in the game.
- Alien Social Club
You're not the only alien on the earth, for an efficient exploiting, aliens need to build a social network to share source information! The function of the alien social club will be gradually completing.
File size:
40.5Mb
Playstore:
Format:
APK

Root or Non Root:
Non Root

How to install:
Simple install the game via the .apk!

Mod features:
English:
– Unlimited Money
Download
Virusscan
You will find the Virustotal and Bitdefender scan on mediafire.

Have Fun!

​