Messages

99
Reaction score

38
Points

588
How To Install Bo1 Wii Mod Menu
!!

Requirements Listing

!!


1.

Soft Modded Wii or vWII




2.

Have the ISO Version of the game




3.




4.

Mod Menu
​
Follow The Steps Carefully
1. Install
Trucha Signer
2. Install The
Registration

3. Open Trucha Signer
4. Click at the top right "Select KeySet", And Click Custom KeySet 1
5. Click on "Image" Tab, Then Click "Open
ISO
"
6. Find Your BO1 Iso And Double Click On It
After That It Should Look Like This


7. Double Click On DISC Then PARTITION (SC7E52)
Now It Should Look Like This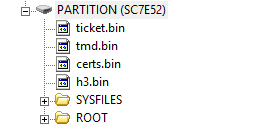 8. Double Click On ROOT Scroll Down Until You See common_level_temp_mp.ff

9. Download The
Menu
10. After Downloading Right Click On
common_level_temp_mp.ff
and click on Replace
11. After that Replace with the menu you downloaded.
12. After Your done replacing scroll all the way at the top back to PARTITION (SC7E52) Right Click On it then click "Trucha Sign It!"
After all that your done. Now use you can use WBFS Manager and put the
ISO
into your
USB
or hard drive, now your set to use a mod menu on the
WII
.
If Any Troubles Contact my Discord
Linux Has Big Gay#1338
​
Last edited: