Messages

72
Reaction score

100
Points

383
Subway Surfers v1.63.1
Updated: 01.09.2017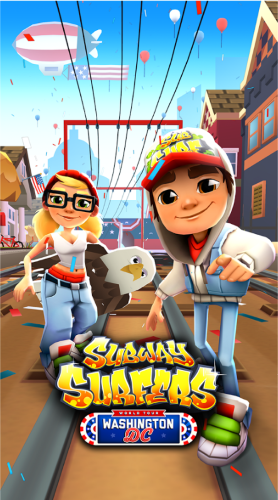 DASH as fast as you can!
DODGE the oncoming trains!

Help Jake, Tricky & Fresh escape from the grumpy Inspector and his dog.

★ Grind trains with your cool crew!
★ Colorful and vivid HD graphics!
★ Hoverboard Surfing!
★ Paint powered jetpack!
★ Lightning fast swipe acrobatics!
★ Challenge and help your friends!

Join the most daring chase!

A Universal App with HD optimized graphics.

By Kiloo and Sybo.



File size:
58MB

Playstore:

Format:
APK

Root or Non Root:
Non Root

Language
German/Deutsch

How to install:
Simple install the game via the .apk!

Mod features:
English
– Cheat Menu
– Unlimited Coins
– Unlimited Keys
– Everything for free
– High Jump
– Double Jump
– Unlimited Hoverboard.
– Unlimited Booster
– Unlimited Fast Start
– All character and boards unlocked
– x2 Coins
– Items on Max
– Score x950 ~ Double Score Activated
– Time 0
– Bonusbox for free

German/Deutsch
– Cheat Menu
– Unendlich Coins
– Unendlich Schlüssel
– Freies Kaufen
– Super Sprung
– Doppel Sprung
– Unendlich Hoverboard.
– Unendlich Booster
– Unendlicher Krasser Start
– Alle Charakter und Boards freigeschaltet
– Doppel Coins
– Items auf Max geuppt
– Score x950 ~ Doppel Score Aktiviert
– Zeit zu 0 gesetzt
– Schlüssel benutzung zu 0 gesetzt



Download

Virusscan


Have Fun!

​
Last edited by a moderator: