Messages

219
Reaction score

211
Points

163
(PS3 Only)
(Thread moved to Web Development section on 5/21/2016)
Hey guys whatsup, heres a simple Web based GSC injector i've created (Written in c#, PHP & a bit of jQuery). Currently it only allows you to inject ONE compiled .gsc file onto you're console at one time (this is because each time you inject a compiled .gsc file with my Web based GSC injector the compiled gsc gets injected to the same empty address - 0x10040000), so if your menu requires the injection of multiple compiled .gsc files this will not work for you.
Link: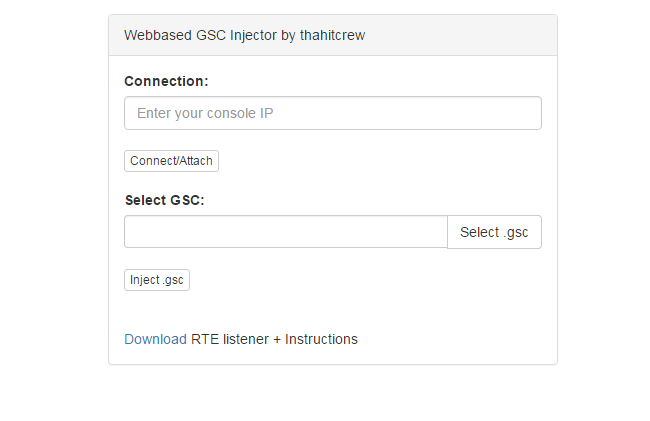 Before injecting, rename the compiled .gsc file you'd like to inject to: "thcgsc.gsc", once you've done that proceed to read the "Instructions.txt" within the "RTE Listener.zip" file - or simply read the instructions from here:
RTE Listener download:
RTE Listener virus scan:
Virus Scan Detection ratio: 3 / 56 (false positive due to string encryption and/or MSIL obfuscation)
Note:
I'm working on a simple REST API so you guys can easily use all the features of CCAPI in any of your web applications, should be released within the next few days.