This is a eboot builder for battlefield 4 1.20 update.
This tool was created by Restrain, so credits go to him!
This Builder Has The Following Options;
UAV
Player Wallhack
Vehicle Wallhack
No Spread
One Shot
No Reload
Player Tags
Unlock All
Sniper Unlimited Breath
Download Link
Code:
https://mega.nz/#!805AGb6D!BjJe0kIHjTHK4T9VjSp_fZGDoas2JAKsrltmO-nH5JA
How To Use?
Open The EBOOT builder.
Load the EBOOT.ELF ( I will provide a clean one down below To Use!).
Select the mods you want on the EBOOT,(Caution* Use At Own Risk)
Press " Build EBOOT ".
A dialog will pop up, press 2 for a CEX EBOOT or press 8 for a DEX EBOOT.
Done, Enjoy your new custom EBOOT!
Original .ELF Link
Code:
http://www.mediafire.com/download/aohjhcjmuf2ottf/EBOOT.ELF
Virus Scans
Code:
https://www.virustotal.com/en/file/a6c786456154a1d5ef66564b0dc4dc4a08427cf18f3e5fd535e62b32e8d358c5/analysis/
Code:
https://www.virustotal.com/en/file/8fa3e1b4e731d0f32a71ca7b5639979fba8a7a369823c92197693703afd19ec8/analysis/
Picture Of Tool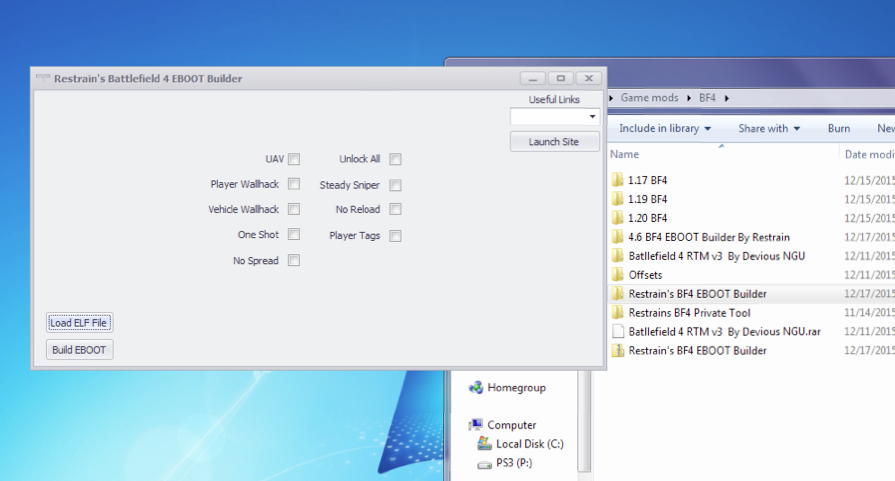 Last edited: